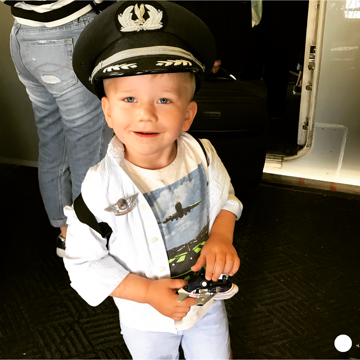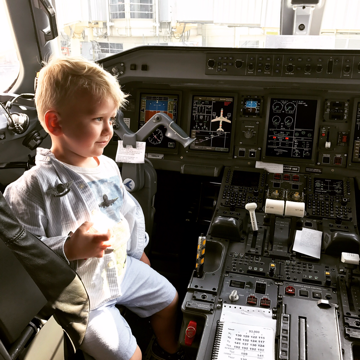 Hacks for traveling with kids and not losing your mind.
My son has been on over 60 flights in his short life of three years. My 17-Month-old daughter almost 20. When you live hundreds of miles away from your parents (your help, your lifeline) flying becomes the norm.
I've always had pretty good luck flying with the kids. I assume this is because my first flight with my son I was severely mom shamed by a woman in front of me. She was boarding with a toddler in a carrier and nothing but her purse. It was my first flight with my son, I know I overpacked, I know I looked ridiculous but who knows I might need 15 diapers and three changes of clothes for the both of us, you just never know. While I was waiting to board we were discussing our kids age and how it was my first flight. She looked at my stroller with the car seat attached, my overflowing diaper bag my purse packed full of toys and smugly said "All you need is a carrier and some snack." She even joked with several other passengers about how I obviously was a first timer. Well damn if her baby didn't cry the entire two-hour flight. When we were exiting the plane, it took everything in my smart ass soul not to ask her if she ran out of snacks. Because of mommy McJudgy I assume I just got good flying Karma. There have been one maybe two meltdowns and a barfing incident but for the most part my kids are pretty good little travelers.
I get asked several times a month on tips or tricks with flying with young kids so I figured I'd just write it down.
Dress them cute.
· You might think this is shallow but trust me people are way more tolerable of a kid in a fedora and suspenders than they are of a kid wearing a minion's t-shirt.
Know the Rules
· Kids under 12 don't have to take off their shoes to walk through security. You do they don't.
· A Breast Pump will get flagged if you don't put it in a checked bag. If you don't want to get slowed down at TSA check it. I once got flagged because of a breast pump and patted down while 6 months pregnant and my 18-month-old sat crying for mama. Trust me when I say try and avoid it.
· Breast milk is fine to take on board but make sure you label it to avoid a hassle and know they will test if it's over 3.4 oz.
· A child under 2 is considered a lap child and you don't have to pay for a seat. Although if you're flying domestic you aren't required to show a birth certificate. Let's say you kid just turned two, no one will question it but you will have to lie about their actual birthdate. Maybe you're a better person than me but I had a hard time paying for just a kid who is 25 months old who was going to sit on my lap regardless.
Snacks
· Find that one snack you bribed your kid to pee on the potty with and pack that. Don't normally allow chocolate? Maybe pack some as a reward. Kid likes popcorn? Mamas got popcorn. You want a sucker? Be good, Mamas go you a sucker. For us it's sticks of beef jerky. If you ever smell something coming out of purse and wonder what it is, chances are its beef jerky.
Don't Let them Smell Your Fear
· Flying make you nervous? The entire thought of flying with kids alone terrify the hell out of you? Too bad suck it up. Don't let me smell your fear. If a young kid gets even a sniff you're uneasy they'll become uneasy too.
Coffee & Wine
· Two things I never fly without. Coffee and a Mini Bottle of Wine. I'm fortunate enough to fly out of LGA on the regular and terminal C has mini bottles of sparkling wine you can take to go. Coffee is to get me through and situated on the plane. Wine is my present if I get the kids to sleep. If they don't knock out then I just have a cute little bottle of wine for bedtime later. It's a win, win situation.
Games You Can't Lose
· If your kid is used to watching YouTube videos and you have to put their device on airplane mode be prepared and download Moana way ahead of time. Don't act like your kid doesn't love Moana. If you do download a new game make sure it's a simple one and one they won't get frustrated with. Get them a game they can't lose like the Sago Mini games. Kids as young as two can figure these interactive games out and since you can't lose there is no frustration.
Stroller vs Carriers
· You can roll your stroller right up to the plane and gate check it. Want to make good with the flight attendants? Before boarding go to the desk and get the gate check tags so you're ready to go when it's time to board and you won't hold up the line. Pack the carrier too. While some airlines like American will not allow you to have your kid in a carrier during takeoff and landing you can still strap them in for a nap. Speaking of carriers, I also never travel on flights without a tennis ball. Might sound odd but if I'm wrestling a mini me for hours in a carrier nothing is worse than a lower back or neck cramp. I always keep a tennis ball on me to roll out tension cramps. Sounds odd but a lifesaver if you're sitting on a long flight with a wiggly worm baby strapped to you.
Meltdowns
· A crowded plane that no one can exit is not a time or place to teach your kid a lesson. If they want a cookie give them a damn cookie. If they're being a jerk don't take away their iPad just survive and discuss it later. While normally I would never give a kid with a dirty attitude anything they wanted it's not fair to the other hundred people on a plane to listen to your kid cry if there is even a slight chance it's avoidable. Just deal with it the best you and discuss their actions at a later time.
Be Nice
· Flight attendants, pilots, people in general – just be nice. People are way more likely to scratch your back and help you out if you're polite and greet them with a smile. This isn't just for flying it's in general. If your kid does lose it on a flight everyone is way more likely to help if you're nice. Working in customer service is hard and they must deal with some real shit attitudes, sometimes traveling can bring out the worst in people. Especially around the holidays when these airline workers aren't spending time with their families their flying you to yours. Be nice, smile and you're way more likely to get an extra hand in return.